iPhone Surveillance Systems & iPhone Security Cameras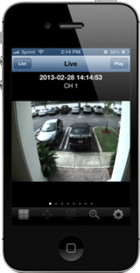 CCTV Camera Pros sells iPhone surveillance system and iPhone compatible security cameras. We have specialized in supplying security cameras and DVRs that can be viewed from iPhone since 2008 (shortly after the first iPhone was released). All of the systems and security cameras that you see below on this page are compatible with the Apple iPhone for remote camera viewing. Each camera, DVR, and system works a little bit differently. Sales engineers at CCTV Camera Pros are available to help you decide which option is best to meet your requirements. Please call us toll free if you have any questions: 888-849-2288.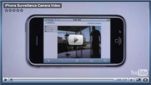 Please click here to watch demonstration videos of iPhone DVR viewer apps, IP cameras viewed from iPhone, and even push notification from security cameras sent to an iPhone. Please note that CCTV Camera Pros can mix and match a variety of cameras to create a custom system that is right for your application. We are here to help plan out your system based on your requirements. Please contact us via phone, online via our live chat, or you can request FREE surveillance system consultation here.
iPhone Compatible IP Cameras
Zavio IP cameras are an excellent choice for customers looking for a system that does not necessarily require the use of a DVR. IP cameras connect directly to a home or office network and can be configured to allow remote access over the Internet. Zavio IP cameras are compatible with the iCamViewer app developed by CCTV Camera Pros. In addition, Zavio has also developed an app that is free to download. Some Zavio models support push video notification to the mobile app. CCTV Camera Pros is the master distributor for Zavio in North America. Click here to learn more about Zavio IP cameras.
---
iPhone Compatible CCTV DVRs
The iDVR has been our best selling network capable CCTV DVR for the past 2 years because of its easy to use interface, stability, and outstanding camera viewer apps for iPhone, iPad, Android, Mac and Windows computers. The iDVR is available is 4, 8, and 16 channels models. We also sell complete systems that include the iDVR and we can customize systems with the exact number and types of cameras that each customer requires. Click here to learn more about the iDVR. You can learn more about the iPhone app here.
---
iPhone Compatible HD CCTV DVRs
Viewtron surveillance DVRs come in standard CCTV and hybrid HD-SDI (HD CCTV) models. Using the DVR models that support HD-SDI cameras, users can access their camera is high definition from mobile apps for iPhone, iPad, and Android. All Viewtron DVRs are also compatible with both Windows and Macintosh PCs. CCTV Camera Pros began selling Viewtron DVRs in March of 2013 and they have quickly become a best seller. We highly recommend these for users that want to use both traditional and HD CCTV cameras, and when users plan to add HD in the future. The iOS app is outstanding and users also love that the system can be accessed from Mac right from a web browser. Click here to learn more about Viewtron.

Please click on the above images to view the mobile apps image and video gallery for Viewtron DVRs.
---
Best Selling iPhone Compatible Security Systems
The security products below are our best selling IP cameras, surveillance DVRs, and CCTV systems that are compatible with Apple iPhone. Please note that this is not all of the iPhone compatible equipment that we have available. For example, all Zavio IP cameras are viewable from iOS. The below list includes only our Zavio best sellers. Also important: our sales engineers are available to guide you and they can create a custom solution /quote based on your specific needs. We are available to help via chat, email and phone. Please let us know how we can help.
Here is video demo of a hybrid HD-SDI / CCTV Viewtron surveillance DVR being accessed via the free iPhone app that is available in the Apple app store. Viewtron DVRs are available in models that support analog CCTV cameras on all channels and also in hybrid models that support HD-SDI cameras on some channels and analog CCTV cameras on some channels. Users can view their security cameras live as well as play back video that is recorded of the DVR's hard drive from the app. You can learn more about Viewtron surveillance DVRs here.
---
iDVR iPhone App
Here is video demo of the MobileCMS app for iDVR recorders. This iPhone app lets users view all of the CCTV cameras connected to an iDVR. Users can also playback recorded video, control PTZ cameras, and receive push message notifications triggered by alarms in the app. iDVRs are made for analog CCTV cameras only at this time, Please click here to learn more about iDVR DVRs.
---
iDVR surveillance recorders can send push alert notifications to iPhone based on events such as motion detection triggered by a security camera. Other types of events that can trigger a push message to iPhone are external alarm inputs, camera video loss detected, hard drive failure, recording disabled, temperature warning, fan failure, voltage drop, network loss (reports after network connectivity resumes), hard drive full, and admin system login. Please click here to learn more about iDVR surveillance DVRs.
---
The iCamViewer is a free iPhone app for IP cameras. CCTV Camera Pros developed this app in 2009 and we continue to integrate new camera models every day. Since we developed the iCamViewer, it is no longer necessary to use the Safari web browser to access IP cameras. The below video uses a Zavio IP camera to demonstrate how to setup the iCamViewer for remote Internet access to view your IP cameras. The iCamViewer app can be downloaded from the Apple app store for free here. The iCamViewer is integrated with all wired and wireless Zavio IP cameras. The iCamViewer can control PTZ cameras from iPhone.
---
CCTV Cameras

16 Channel Systems

RG59 Coaxial Cable