NUUO DVR Cards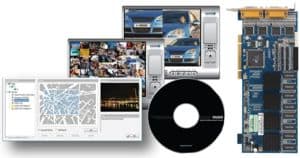 NUUO DVR cards are highly recommended by CCTV Camera Pros. The 6000 and 7000 series DVR cards use the latest H.264 hardware compression which allows most of the video processing to be done by the DVR card processor instead of the computer processor. This allows the system to run more efficiently and also allow up to 4 DVR cards to be installed in one computer. NUUO DVR cards support systems with up to 64 cctv cameras, by stacking 4 of the 16 channel 6000 and 7000 series cards. These DVR cards can also be used in conjunction with NUUO IP camera software to create a hybrid surveillance system consisting of both CCTV cameras and IP cameras (up to 64 cameras). For a complete matrix of which cards can be used to create different sized surveillance systems, please refer to the mutliple DVR card stacking rules.

CCTV Camera Pros is directly partnered with NUUO to bring you the best price on the market. CCTV Camera Pros also builds custom surveillance DVR / NVRs using NUUO DVR cards and IP camera software to create hybrid surveillance systems. We can build custom DVR / NVR combos using state of the art desktop PCs as well as professional rack mount servers.


Stack up to 4 DVR cards in a single computer
Support for up to 64 CCTV cameras on one computer / server
Compatible with all CCTV cameras that CCTV Camera Pros sells

View and monitor up to 64 channels from CCTV cameras, IP cameras, Network Cameras, & mega-pixel cameras

Dual monitor Real-Time display and Playback with HD quality at 30FPS
"Smart Guard system" with 6 kinds of video analytics and 6 kinds of instant response
GUI Recording Schedule
Intelligent search for easy locating of recorded events
Recording modes: Continuous, Event, Motion, Scheduled, Manually, w/ Audio, Auto Recycle
Video Analytics: General motion, Missing Object, Foreign Object, Camera Occlusion, Loose Focus, Signal Lost.
Real-Time A/V multi-events viewer and filter
H.264 Video Compressions supported
2 way audio support

Video Quality Enhancement Tools
704 x 480 or above recording resolution
Combine DVR Cards with IP Camera Software Licenses to create a hybrid system
Triple Monitor Display

User-Define Preset Location for analog CCTV dome.
Digital PTZ and Multi-dynamics viewer (with addition of IP camera license)
Support for Megapixel cameras, IP cameras and video servers (with addition of IP camera license)
Smart detection of 6 different events
10 programmable type of reactions for event detection (including motion detection)
Counting Application
I/O Device Integration

Multifunctional Playback System with Intelligent Search
Remote live viewer, playback backup, IO control, desktop configuration
Alarm source of NUUO Central Management system
Compatible with Joystick
Easy to Use Graphical User Interface
Execute system recording in the background after logout system.
E-Map Application for Large Enterprise Systems
Database Repair Tool can be used to repair corrupt Video Log Files

Integration with POS Systems and Cash Registers (requires NUUO SCB-C31 box)
The following table shows how to stack specific Nuuo cards to get the desired number of channels on one system. (The table reads form top to bottom).

Note: Stacking can only be done using same series cards.




| Channel Number | 7100 Series | 7000 Series | 6000 Series | 3000 Series | 1000 Series |
| --- | --- | --- | --- | --- | --- |
| 4 | X | SCB-7004 | SCB-6004 | SCB-3004 | SCB-1004 |
| 8 | SCB-7108 | SCB-7008 | SCB-6008 | SCB-3008 | SCB-1008 |
| 16 | SCB-7116 | SCB-7016 | SCB-6016 | SCB-3016 | SCB-1008 (x2) |
| 32 | X | SCB-7016 (x2) | SCB-6016 (x2) | SCB-3016 (x2) | X |
| 64 | X | SCB-7016 (x4) | SCB-6016 (x4) | X | X |
Customers looking for older NUUO DVR Cards?
Customers looking for older NUUO DVR Cards should visit our Discontinued NUUO DVR Cards page. This page contains discontinued NUUO DVR Cards that are still fully supported by CCTV Camera Pros.
---
If you find this page useful, please bookmark and share.
---