IP Security Cameras & IP Video Servers
IP security cameras and IP video servers are connected to an IP network using an Ethernet connection / CAT-5 cable. IP cameras and video servers have built in web servers so that the surveillance video that they transmit can be viewed directly from the camera over the Internet using a web browser, such as Internet Explorer. There is no need for a DVR or video capture card in order to broadcast the surveillance video over the Internet. IP video servers, also known as network video servers turn any CCTV camera (with a standard BNC output) into an IP based network camera (Ethernet output).

CCTV Camera Pros is an authorized distributor for Geovision, Vivotek, Messoa, and Zavio IP cameras. Please select the brand that you are interested in below or scroll down on this page to view all cameras from all manufacturers.
Click here to read about a home IP security camera system.

This 4 camera home surveillance system was installed using the following equipment:
Each Infrared CCTV camera is connected to an IP video server via a BNC plug and play cable. The ethernet output of the IP server is then connected to the DLink router. This enables the surveillance video to be transmitted over the IP network of the house and also allows the cameras to be viewed over the Internet. The IP video server essentially turns a CCTV camera into both an IP camera and a CCTV camera because the IP video server has both BNC and ethernet outputs. This is useful incase you want to hook the camera up to both an IP network and a surveillance DVR.

Here is what the installation looks like viewing from Internet Explorer. Please note that no special software is required on the computers that will be viewing the cameras online. Only Internet Explorer is required. Up to 9 IP cameras can be viewed from a single web page.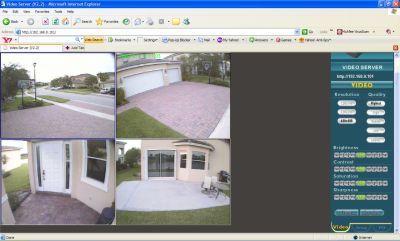 Four camera view in a browser


Click for large view




One Camera view in browser
Click for large view

If you would like to schedule a live online demonstration of viewing CCTV Camera Pros IP cameras, please email mike@cctvcamerapros.com or call 888-849-2288 and ask to schedule a live demonstration.

Customers looking for older IP Cameras / Video Servers?
Customers looking for older IP cameras and video servers should visit our Discontinued IP Camera / Video Server page. This page contains discontinued IP cameras and video servers that are still fully supported by CCTV Camera Pros.