Alnet Systems - Video Surveillance

CCTV Camera Pros is an authorized master distributor for Alnet systems. We are partnered directly with the manufacturer to bring you the best pricing and support available. CCTV Camera Pros stocks and distributes the entire product line from Alnet including Alnet IP Camera Software, Alnet NVRs, Alnet hybrid DVRs, Alnet DVR cards. All surveillance systems include the VDR-S and VDR-C, and Alnet CMS mobile software. We sell complete hybrid surveillance solutions for CCTV cameras and IP cameras. Alnet systems provides an advanced surveillance solution that can grow with your business with support for up to 64 cameras on a single hybrid DVR / NVR system.




Please call us toll free if you need help with anything or if you need a formal quote 888-849-2288




---
If you find this page useful, please bookmark and share.
---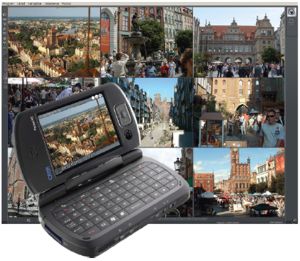 The Alnet NetStation software, also known as VDR-S, is server recording software included with all IP camera licenses and DVR cards. VDR-S / NetStation is an advanced video and audio surveillance recording system that works with both IP cameras and analog CCTV cameras. The VDR-S surveillance application has been operating reliably for 5 years on over 60000 surveillance applications worldwide. It has achieved award winning and guaranteed stability, reliability, and functionality. The VDR-S scalability allows surveillance installation sizes to grow over time by allowing installers to add additional IP camera licenses, DVR cards, and servers to existing installations. The CMS software that is also included with Alnet systems enables users to manage and view multiple systems from a central interface.

The NetStation system can be a built as a hybrid surveillance system containing a maximum of 64 cameras, 16 can be used as analog and the rest as 48 IP cameras on a single server. Hybrid Solutions, using Analog/IP are extremely useful in situations where there is a need for developing new installations, or adding IP cameras to existing analog CCTV installations. In many cases installers are able to utilize existing CCTV installations which greatly reduce the cost of re-development of projects. For a NetStation hybrid system, a PC based DVR is used where analog cameras connect to the PC using Capture Boards, and IP cameras utilize the local network to connect using TCP/IP. The NetStation software is compatible with the latest IP cameras on the market utilizing H.264 video compressions and HDTV video standards.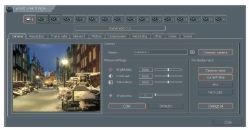 Since the NetStation is an open platform "hybrid" system, this means that it is compatible with most IP cameras and IP video servers made by the leading manufacturers. Scalability of the software allows for the ability to adjust the installation size for specific projects depending on project requirements. Application updates guarantee that the software will always have the latest features and solutions that follow CCTV trends. NetStation perfectly suits small, medium, and enterprise installations, ranging from 4 cameras to several hundred of cameras. Alnet is a great solution for high end residential, commercial, and government contracts.
Alnet VDR-C is an advanced client software application that allows for an unlimited amount of remote connections to access live video streams, recorded video, and many other functions from one location. There are also clients available for mobile devices. The application is considered one of the most advanced and expanded application for monitoring CCTV systems. The application can be used on devices equipped with SymbianOS and Windows Mobile Operating Systems.

Alnet systems support remote mobile access from Windows XP / Vista desktops and laptops, Windows Mobile Phones, SymbianOS cell phones, BlackBerry mobile phones, Android phone, and iPhone using the free iPhone Alnet iPhone App available in the app store.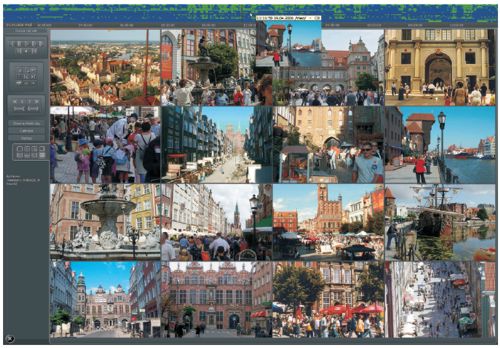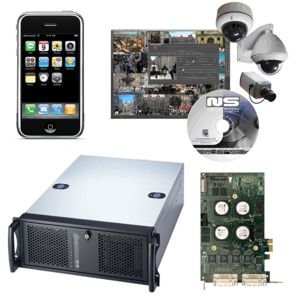 Alnet systems NetHybrid is a professional solution for digital recording and remote transmission of IP and CCTV security cameras. The Alnet software uses advanced techniques in the area of video compression and transmission which allows for remote viewing of live and playback videowith high definition television quality (HDTV), even using a slower Internet connections such as GSM and EDGE.

Advanced system settings allow for precise control of each parameter such as: resolution, displayed frame rate, and recording frame rate. The NetHybrid system is based on Alnet DVR cards and Alnet IP camera software which allow a single server to control and record up to a maximum of 32 CCTV cameras and 16 IP cameras.

Alnet hybrid solutions are useful in installations where an existing Analog installation is present, and IP cameras are being added. In these cases, the NetHybrid system is a very flexible solution which at a low cost allows the migration of Analog and IP Technologies in one system. Functions such as Digital Zoom, Dynamic Resolution, and Transfer of Video, allows for practical solutions using Megapixel IP Cameras. Remote connections to NetHybrid are accomplished with the use of free Alnet central management client software, CMS Professional. The CMS uses TCP/IP protocols to allow connecting to an unlimited number of Alnet DVR servers in multiple locations. Expanded functionality, quality video archives, and high-speed transmission of video are only some of the features available in CMS Professional. Client applications for Windows XP/Vista Windows 7, as well as entire families of professional solutions exist dedicated for mobile applications utilizing Windows Mobile, SymbianOS, BlackBerry, Android and iPhone.
Because Alnet systems do not rely on Active X controls, Alnet surveillance systems are Mac compatible for live remote viewing. Alnet systems use Java for live remote viewing which is built into Leopard and Snow Leopard Mac operating systems. As long as your Mac computer has the latest version of Java installed, you can access Alnet systems remotely over the internet from a Mac. Please click on the image to the right for a full size view of a screen shot taken of a Mac accessing an Alnet system in Boca Raton remotely over the Internet.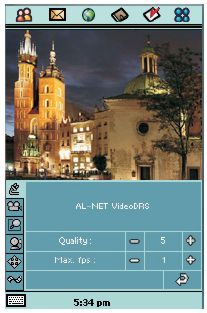 The Alnet mobile CMS application is designed for mobile phones and PDA to view and control Alnet systems from celkl phones. Alnet mobile CMS is currently one of the most advanced solutions available in the world. CMS Mobile allows remote access to NetStation / NetHybrid surveillance servers from anywhere. Applications are available all mobile devices with Symbian OS, Windows Mobile, Blackberry or Android. The advanced video compression developed by Alnet allows CMS Mobile to operate even using low bandwidth networks such as GSM/EDGE.Despite the low bandwidth available from GSM providers, the video image on CMS Mobile is fluent and high quality.

The CMS Mobile application installed on a PDA with wireless transmission (WI-FI) is perfect for use by security guards that patrol large areas. There is no need for physical contact between the guards and main control room because the surveillance video from the systems' cameras are always available on the guards PDA or cell phone. Mobile surveillance solutions make security guards more efficient and in many cases allow personnel reduction.

The CMS mobile application includes access to archives video via a menu that allows quick and precise browsing of recorded video on remote server. The advanced archive browsing allows for complete control of searching through recorded video. The unique time line provides a fast and precise way for users to find precise events. The fast scrolling and bookmarking is another feature that Alnet users love.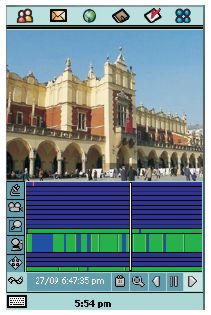 The main window includes all information about connection with remote server such as name of the viewed camera, server address and display speed (fps). It is possible in the bottom part of the screen to adjust compression level and display speed. These parameters provide precise description of picture quality to transmission speed. Outputs / Inputs includes full list of discreet inputs / outputs installed on the server site, indicators near description show their state. Outputs are capable of controlling functions remotely such as: light swithes, gates and doors.

Cameras include actual lists of all installed cameras on server site. Red indicator near camera description informs when motion is detected and this definitely improves use.

CMS mobile includes a user friendly PTZ dome control panel. The PTZ controls include a full set of tools for remotely steering of PTZ domes. The operator can manually steer in all directions or he can use available presets from a list in order for quick transfer to positions programmed earlier. Using manual controls, it is possible to choose one out of three speed reactions of PTZ dome which is useful on connections with low bandwidth. Additionally manual Zoom +/- option helps with precise tuning of the dome.

CMS Mobile application is included with all Alnet DVR cards, IP camera software and systems built by CCTV Camera Pros. If you have any questions related to Alnet or surveillance in general, please contact CCTV Camera Pros at 1-888-849-2288.
Alnet systems are compatible with the free iPhone CMS mobile app that is available for free from the app store. Please download the free app here from the app store:


http://itunes.apple.com/us/app/cms-mobile/id351572698?mt=8



After you download the app, you can click on the connect button in the app to connect to the US and Europe Alnet systems to demo the quality video that you can see using Alnet systems from an iPhone, iPod touch, or iPad.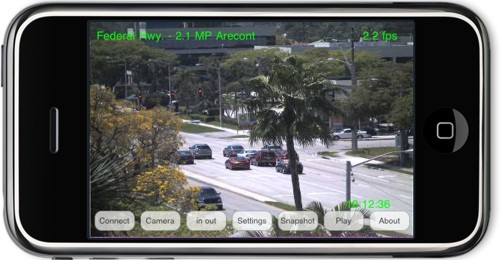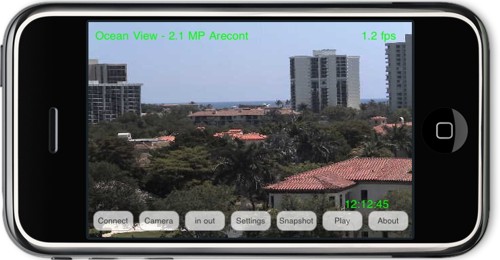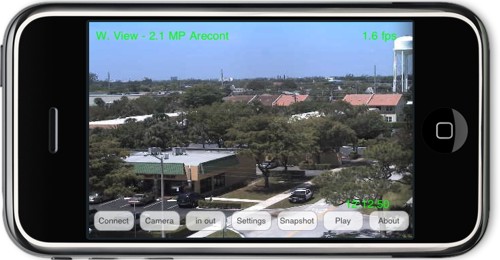 ---
If you find this page useful, please bookmark and share.
---