NUUO NVR Mini Network Video Recorder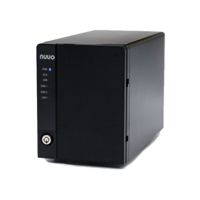 The NUUO NVR Mini network video recorder is a stand alone Linux based surveillance solution for IP cameras. The NUUO network video recorder is also known as the NVR-mini because of its very small size, but don't let the size of this NVR fool you. The NVR-mini is a powerful solution that is well suited for business, government, and home surveillance systems. The NUUO NVR is available from CCTV Camera Pros as a 4 channel network video recorder as well as an 8 and 16 channel network video recorder. The system is compatible with many IP cameras and all configuration is done over the network using a computer with Internet Explorer. Click on the products below to learn more about the four, eight and sixteen channel models or click here to read more about the network video recorder features, NVR installation, & detailed product specification.


Before purchasing, please confirm that your cameras are compatible with NUUO. If you are looking for certain features such as PTZ or Motion Detection, confirm it is on the NUUO Mini Supported Camera List.



---
If you find this page useful, please bookmark and share.
---
There are many ways to build a surveillance system application using the NVR Mini network video recorder, including the use of wired and wireless IP cameras. You can also connect to IP cameras both on a local area network (LAN) as well as remotely over the internet. The below image will help to illustrate.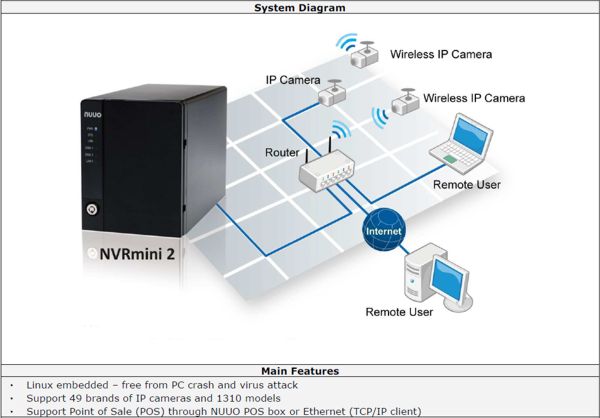 The NUUO NVR Mini is connected to a network using a cat-5 cable (just like any computer).
IP cameras are also connected to a network using cat-5 cable.
If the IP cameras and NUUO NVR are on the same network (connected to the same router), the NUUO NVR can search the local network for compatible IP cameras (universal plug and play).
If the IP cameras are not on the same network as the NVR, you can record over the Internet from a remote location
A single NUUO NVR can be used to record both local and remote cameras.
The NUUO NVR can connect to and record both wired and wirless IP cameras with the use a wireless router or wireless access point. *Note: CCTV Camera Pros highly recommends using wired cameras when possible.
Based on Secure & Stable Linux Platform
Support for both standard IP cameras and megapixel cameras
Viewing and Recording up to 2580x1920 resolution (5 megapixel)
Support H.264 Cameras
Does Not Rely on any Windows PC for Recording
Easy to Use Graphical User Interface
Compatible with NUUO CMS (Central Monitoring System)
Continuous record, Record by schedule, Manual record, Event trigger record, Digital input triggered record
ACTi, Arecont, Axis, Cisco, D-Link, IQinvision, Level One, Linksys, Lumenera, Mobotix, Panasonic, Sony, Vivotek, & Zavio IP camera support. More IP camera models & brands being added
Automatic reboot when power resumes after a power loss
Auto recycling when storage disk reaches 2% remaining
(2) SATA Hard Drive ports for 4 channel network video recorder
(4) SATA Hard Drive ports for 8 channel network video recorder
Smart Video Search by the following methods: General motion, Missing object, Foreign object, Lose focus, Camera occlusion
View and monitor up to 16 cameras on one screen by combining more than one NVRmini
Click in the below images to view a PDF files of the technical specification and more information about the NUUO NVRmini.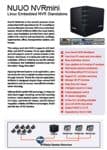 Many common issues and documented solutions to these issues can be found in the Nuuo Mini NVR support articles and Nuuo Support Forum.
Nuuo Mini NVR Setup Articles / Instructions
---
If you find this page useful, please bookmark and share.
---