Security Camera App | iPhone, iPad, Android Apps for IP & CCTV Surveillance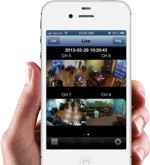 Since 2007 (the year the iPhone was released by Apple), CCTV Camera Pros has specialized in supplying the best video surveillance system solutions that include security camera apps to let users view CCTV and IP cameras live from mobile devices including iPhone, iPad, and Android.
In 2008, CCTV Camera Pros developed one of the first iPhone apps that let users view CCTV and IP based security cameras remotely over the Internet - the iCamViewer. In addition to developing our own mobile applications, we are also diligent in partnering with some of the best DVR and IP camera manufacturers in the world, who also take mobile software development seriously.
On this page, you will find a general overview and links to download some of the best security camera apps and other mobile apps related to video surveillance available.
CCTV Camera Pros Mobile

Although this app does not have a security camera viewer, it contains a ton of resources to help users research products and solutions. In addition there is a security installer tools section that has hard drive calculators, port forwarding checker, IP address locator, and many other handy tools to help plan and support surveillance systems.
---
iDVR-PRO Viewer

iDVR-PRO Viewer for iOS works with iPhone and iPad devices. Users can connect to one or more iDVR-PRO CCTV DVRs from a network connections to view their security cameras live. The app also supports remote playback of surveillance video footage that has been recorded to the DVR's hard drive. Click here to learn more and see screenshots of the iDVR-PRO Viewer app for Android.
---
iCamViewer - IP Camera Viewer

The iCamViewer was developed by CCTV Camera Pros made available as one of the first free iPhone apps available in the Apple app store that let users view IP cameras (and CCTV cameras when connected to a network video server) remotely over the Internet. Since then, CCTV Camera Pros has integrated the iCamViewer with over 20 manufacturers and 200 models, including all Zavio IP cameras.
---
Viewtron DVR Viewer

Also developed by CCTV Camera Pros, the Viewtron app for iOS and Android is a camera / DVR viewer app that works with all Viewtron CCTV and HD-SDI hybrid DVRs. The Viewtron app allows users not only to view security cameras live, but also search and playback video that has been recorded to their DVR.
---
---
---
---
---
---