Geovision Surveillance DVR Computers
Our Geovision surveillance DVRs and Windows based computers that come pre-built with a Geovision card. Each Geovision DVR is professionally installed and tested before being shipped. We build Geovision DVRs in 4, 8 and 16 camera systems configurations. Each system has hard drive and Geovision card upgrades available. These systems are perfect for home, government, and business owners that do not want to be bothered with installing the Geovision hardware and software onto a computer. Leave the technical stuff to the Pros, we guarantee these systems because they are built with hardware that meets or exceeds Geovision standards. They are then tested and certified by a build engineer before we ship them.
If you prefer to build your own surveillance DVR from your own computer, we also sell Geovision DVR Cards separately. Click to view our large selection of Geovision Cards on this page. If you are looking for a complete system with everything that you need, including security cameras, check out our Complete Geovision DVR Systems here. Click here to learn more: Geovision System Information.
---
If you find this page useful, please bookmark and share.
---
Geovision surveillance systems are a PC based DVR system designed to process video, audio and data from a local and remote network / Internet surveillance environment. Geovision utilizes the most advanced software and hardware digital video compression and processing technologies to generate the best possible video quality most efficiently. Our systems are custom built with the DVR card of your choice ranging from the entry level GV-600 card to the flagship GV-1480 card. Up to 16 cameras can be connected and viewed live on a local monitor screen, on a local area network (LAN), or remotely over the Internet.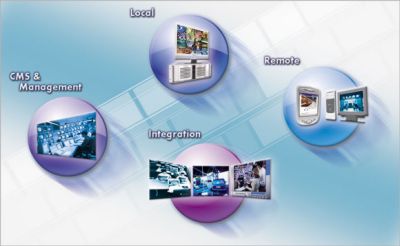 Surveillance video can be recorded based on specific schedules, 24/7 around the clock, or based on motion detection recording. Video is stored on the local hard drive of the computer and can also be stored on any optical storage device by using Geovision Backup System. As of Geovision version 8.2, Geovision now also provides a hybrid solution allowing both IP security cameras an analog CCTV Cameras to be connected to one system. The strong networking capability enables video and audio data to be transferred over the Internet via the WebCam server for viewing on a remote computer, 3G mobile phones, PDA or Geovision remote monitoring applications such a the center V2.
Geovision PC based systems can be built as hybrid surveillance systems which can connect to analog CCTV cameras using BNC connectors and coxial cable as well as network IP cameras using cat-5 cables with RJ-45 ethernet connectors. Mixing CCTV cameras with IP cameras on the same security camera DVR is known as a hybrid surveillance systems. Geovision 1000 series DVR cards (GV-1120, GV-1240, GV-1480) allows you to allocated up to 8 channels on the 16 channel cards to be used for Geovision IP cameras. In order to use 3rd party IP cameras (cameras not made by Geovision), you must purchase
Geovision 3rd party IP camera software licenses
. Geovision hybrid surveillance DVRs can be expanded over time up to 32 channels total. If you would like a quote on a custom surveillance DVR, please contact CCTV Camera Pros at 888-849-2288.
Intelligent Recording & Playback


Privacy Mask Protection
Advanced Motion Detection
Scene Change Detection
Pre-Recording Using HDD
Advanced Round-The-Clock Recording
Instant Playback
Time Merge From Different Clips
POS Point of Sale Integration


Flexible Record Confgurations




Choice of recording at 15, 30, 60, 120, 240 and 480 fps

Recording trigger by round-the-clock, motion detection, alarm and schedule

Adjustable recording quality and frame rate for each camera

Pre-motion and post-motion recording

Supports Windows XP / Server 2003 / Vista burning software for backup


Remote Surveillance - DVR Viewer


Live Video & Audio via IE Browser
Remote Search & Playback Support

3G Mobile Phone Support (3GPP)
SSL Encrypt Connection Support
Monitor Multiple Systems with Center V2
UPnP Support

Notifications & Alerts




E-mail notification with attached video images on motion detection and alarm


E-mail notification on video lost or I/O error

Directs PTZ dome to a preset location on motion and alarm activation

SMS alerts available in Main System, Center V2 and Vital Sign Monitor

Alarms on objects that pass between predefined regions




Major Features
Advanced Motion Detection:

Advanced Motion Detection recording allows multiple sensitivities setup within multiple regions. It is suitable for large-scale security monitoring and recording.



Timeline Search:

Timeline search enables users to locate a specific video recorded on a time frame via an easy-to-browse graphical tool. Timelines can display minutes and seconds, search and playback videos.



Password Expiration Management:

Password expiration management provides better security practices in surveillance system. System administrators can set expiration or disable a user's account. Features also include password edit, account edit and more.



WebCam Server / DVR viewer:

Geovision WebCam server allows you to access live video remotely over a network or the Internet. Single camera views can be directly viewed in Internet Explorer. Multiview will automatically launch the multi view application for up to 16 cameras.



Center V2 Central Monitoring Software

: Monitor up to 5 systems with the software that comes with Geovision or purchase the professional version to monitor up to 500 systems.



Email Alerts

: Send alerts to an email address when a motion detected event occurs.




Mobile Surveillance Apps

: Free mobile app downloads for iPhone, iPad, and Android.

The below diagram illustrates the endless possibilities that you will have with your

Geovision surveillance system

. If you have any questions about the Geovision systems that we build, please call us at 888-849-2288.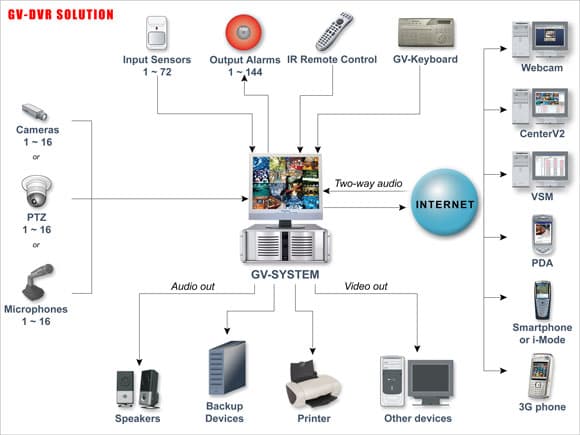 ---
PC Based DVR Specifications
These are the standard PC builds that we use for the different PC based DVRs that CCTV Camera Pros builds. All PCs meet or exceed the manufacturer requirements for the surveillance DVR cards that they are designed for.
Standard PC Build Spec

Dual Core Intel® Core i3
4GB DDR3 1333 Ram
60GB SSD Drive for Operating system
Windows 7 Home Premium
500GB Surveillance Grade Hard
Drives for Video Storage
24x DVD+R Sata drive
430w i7 certified Power supply
Radeon HD 6570 ,1GB DDR3 video card
with VGA, Hdmi and DVI output
3 PCI Slots
2- PCI Express 2.0 x16
2- PCI Express x1
Gigabit Ethernet
Realtek Audio w/
2/4/5.1/7.1 Channel
Professional Desktop Tower Case

Optional PC Upgrades

Quad Core Intel® Core i5
Quad Core Intel® Core i7
Upgrade to 8GB or 16GB of ram
Upgrade to dual video cards
Add-on raid controller
4U Rack-mount Case
Windows 7 Pro
---
GeoVision DVR Card Specs
---
If you find this page useful, please bookmark and share.
---