Geovision Network Video Recorders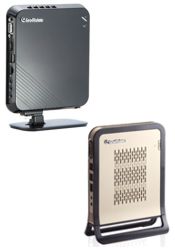 CCTV Camera Pros is proud to announce the launch of the ultra sleek and compact Geovision GV-NVR System Lite and GV-NVR System Lite V2. When using Geovision IP cameras, the NVR automatically recognizes and adds them without having to enter an IP address. The Geovision GV-NVR System Lite and Lite V2 is capable of being accessed remotely using iPhone, Android, Blackberry and Windows mobile devices. Please contact CCTV Camera Pros with any questions or quote request for Geovision surveillance products.
CCTV Camera Pros offers custom camera packaging for all of our DVR / NVR systems. Please feel free to contact us about building a custom package for your specific application. Our team of knowledgeable representatives can be reached at 888-849-2288 or sales@cctvcamerapros.net
Geovision Network Video Recorder Fisheye Applications
One of the most cost efficient and effective solutions is to use a Geovision GV-NVR Lite V2 with a Geovision Fisheye Camera. The wide angle lens of the Geovision Fisheye camera eliminates the need for multiple cameras, which in turn saves both time and cost. The circular image of the Fisheye can be De-Warped into a rectangular view and different modes.

The image below on the left is the circular Fisheye image, which provides a full 360 degree view of the area. The below image on the right displays the Fisheye view De-Warped into four quadrants, mimicking multiple cameras. (These features are only available on the GV-NVR Lite V2)

---
Geovision Mobile App Downloads
Geovision GV-NVR Tech Support

Many common issues and solutions to these issues can be found in the Geovision Support Forum.
Geovision Support Forum