PC Based DVRs & NVRs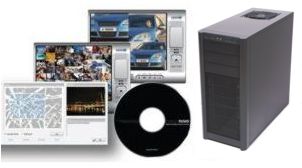 CCTV Camera Pros builds custom PC based DVRs using NUUO DVR cards and NUUO IP camera software. We build both desktop and rack-mount PC based DVRs using the highest quality computers and components. Click here for a detailed PC spec. All of our PC DVR builds are build to specification and QA tested/ broken in for 24 hours before being shipped to our customers. Our PCs and components always meet or exceed the surveillance manufacturer requirements.

CCTV Camera Pros can build DVRs for CCTV cameras using NUUO DVR cards and software, NVRs (network video recorders) using NUUO IP camera license for IP cameras, and hybrid surveillance systems that will support both CCTV and IP security cameras on the same DVR. All DVRs are custom built per order using your choice of a full sized tower case or 4U rack mount server case. We build PC based surveillance recorders ranging from 4 channels all the way up to 64 channels. Our NUUO PC based DVR can also grow over time. Start with a 4 or 8 channel PC DVR and later upgrade by adding additional DVR cards to IP licenses to grow up to 64 channel total on one DVR. It is important to plan your system using the correct series of DVR card and PC hardware to ensure your system can grow over time. Please call us if you need help in planning this.



CALL TOLL FREE FOR LIVE HELP 888-849-2288




---
If you find this page useful, please bookmark and share.
---
These are the standard PC builds that we use for the different PC based DVRs that CCTV Camera Pros builds. All PCs meet or exceed the manufacturer requirements for the surveillance DVR cards that they are designed for.


Standard PC Build Spec


Dual Core Intel® Core i3
4GB DDR3 1333 Ram
60GB SSD Drive for Operating system
Windows 7 Home Premium
500GB Surveillance Grade Hard
Drives for Video Storage
24x DVD+R Sata drive
430w i7 certified Power supply
Radeon HD 6570 ,1GB DDR3 video card
with VGA, Hdmi and DVI output
3 PCI Slots
2- PCI Express 2.0 x16
2- PCI Express x1
Gigabit Ethernet
Realtek Audio w/
2/4/5.1/7.1 Channel
Professional Desktop Tower Case

Optional PC Upgrades


Quad Core Intel® Core i5
Quad Core Intel® Core i7
Upgrade to 8GB or 16GB of ram
Upgrade to dual video cards
Add-on raid controller
4U Rack-mount Case
Windows 7 Pro






Many frequently asked questions and documented solutions to common problems are discussed in the Nuuo Surveillance tech support page and support forum.
Nuuo Main Console Setup Articles / Instructions
Nuuo Surveillance Support Forum

---
If you find this page useful, please bookmark and share.
---