Geovision HD-SDI CCTV
As a master distributor of Geovision surveillance products, CCTV Camera Pros stocks all HD-SDI CCTV equipment available from Geovision. The Geovision HD-SDI product line includes HD CCTV cameras, HD-SDI DVR cards and HD-SDI accessories. CCTV Camera Pros also build custom PC based HD-SDI DVRs as well as hybrid recorders that can record from analog non-HD CCTV cameras, high definition HD-SDI cameras, and even network IP cameras on the same recorder. If you need guidance in planning your system or have questions about this new technology, please email or call our sales engineering team at 561-433-8488. You can also learn more about this HD CCTV technology be reading our FAQ or view sample HD-SDI surveillance videos here.
Stand Alone HD CCTV DVRs
In addition to building PC based HD-SDI surveillance DVRs, CCTV Camera Pros also carries an outstanding line of stand alone HD-SDI DVRs. Our Viewtron HD DVRs are hybrid which means they can be used with HD security cameras as well as traditional CCTV cameras.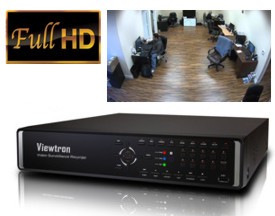 HD-SDI CCTV Cameras
In addition to Geovision HD-SDI cameras, CCTV Camera Pros also carries our own HD security camera product line. These cameras can be used with Geovision HD-SDI cards or with Viewtron stand alone HD-SDI DVRs.
HD-SDI stands for high-definition serial digital interface. It is a standard used in the transmission of uncompressed HD video signals over coaxial cable. The standard is also known as SMPTE 292M and has mostly been used in HDTV production and broadcasting in 720P and 1080P high def resolutions.
Why is HD-SDI now used in some video surveillance systems?
Around 2009 to 2010, some surveillance equipment manufacturers began experimenting with and producing surveillance cameras and DVRs based on the HS-SDI standard. The motivation for this was the ability to achieve 720p and 1080p HD video resolution to compete with higher end IP surveillance systems without the complexity of managing an IP network for installation. The cameras are hard wired use the same type of plug and play type of setup that most security installers are comfortable with (coax cable and BNC connectors).
What type of cable is used to wire HD-SDI CCTV cameras?
Installers can use the same RG59 or RG6 coaxial cable and BNC connectors used with traditional analog CCTV cameras.
Do I need a special type of DVR to record HD-SDI video?
Yes. You can not use a standard CCTV DVR. The DVR must be specifically made to work with the HD-SDI format.
How can I compare HD-SDI video resolution to traditional CCTV camera resolution?
HD CCTV DVR Surveillance Video with HD-SDI CCTV Camera
This video shows the high definition surveillance video that is possible using a PC based HD CCTV DVR and HD-SDI CCTV cameras.
Click here to view this video on a full page: HD CCTV DVR Surveillance Video with HD-SDI CCTV Camera. The original videos exported from the Geovision system are also available to download on that page.
HD Security Camera Systems
In addition to HD-SDI, CCTV Camera Pros also carries HD security camera systems that use AHD CCTV cameras. One advantage of AHD over HD-SDI is that video cable can be run much longer. RG59 cable can be used to run video from AHD cameras at distances up to 800 feet. Installers can also use AHD video baluns to use UTP cable such as CAT5 instead of coax cable.