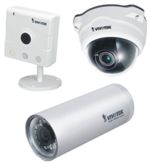 Vivotek IP Camera Network Setup
Vivotek IP cameras are remotely accessible over PC web browsers and mobile devices such as iPhone, iPad and 3GPP mobile devices. This article will explain how to setup the port forwarding for your 7000/8000 series Vivotek IP cameras. For iPhone access we recommend using our iCamViewer application.

Vivotek IP Camera Network Setup

1. Make sure your PC and Vivotek camera are connected to a router.

2. Download the Vivotek Installation Wizard (You can use the Installation Wizard that came with your Vivotek camera). Once the Installation Wizard is installed, go ahead and launch it. (You may have to allow security access if prompted)

3. Once the Installation Wizard is running, you should see your cameras model, mac address and IP address (If your camera does not appear, click the Refresh Devices button to the left). Write down the IP Address, you will need this in the next step. (Shown Below)
4. Now select your router's brand below for Port Forwarding instructions. In the router you will need to forward port 80.

5. Now you have to make sure the ports forwarded are open. You can do this by going to http://dvrport.net
Enter the remote IP address of your Vivotek camera under Enter IP or Hostname. Change the Enter Port To Scan field to read 80 and press scan.

NOTE: If the port is open you will use the remote IP Address you get from the http://idvrport.net . However you will need to type it in as follows via web browser - http://ipaddress:port number, eg. if your IP Address is 108.216.161.110 then it should look like this when you type it into your web browser - http://108.216.161.110:80

NOTE 2: If the ports are showing closed and you have a DSL provider, you will need to call your provider and have them bridge the modem to your third party router. This is a standard procedure.