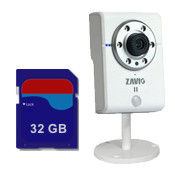 Zavio IP Camera SD Card Surveillance Video Recording Setup
Some network IP cameras from Zavio have internal SD card slots which enable the camera to record video surveillance footage directly to an SD card that is plugged into the camera. Click here to see all Zavio camera models with SD card slots. The setup instructions below document how to setup Zavio IP cameras to record to an SD card based on a schedule or continuously around the clock.
CCTV Camera Pros is proud to be a master distributor for Zavio. We provide lifetime technical support to all customers that purchase from us.
SD Card Setup
Access your IP camera through the web browser interface.
Select Event, then Event Server from the navigation on the left.
Click on the SD card tab.
Turn the memory card on.
Run the format SD card command, then return to this screen.
Select if you want to record video or snapshots to the SD card.
To setup continuous or scheduled recording, you need to select Video.
Even if you are going to record continuously, you should also configure the pre and post recording values in case you also want to enable motion detection or event recording also.
Leave the image file name blank.
Click save when you are done.

SD Card Recording Setup
Access your IP camera through the web browser interface.
Select Event then Event List from the left navigation.
Click on the Add button.
Create a name for this recording. This should be a short description.
Choose the file size that you want the video clips to be saved as.
Choose schedule or always if you want continuous recording.
Click save.

SD Card Recorded Video Playback