iDVR-E Series Surveillance DVR Remote Access Client Software (CMS)


The
iDVR-E Series Surveillance DVRs
can be accessed remotely using the CMS program. The CMS program allows users to view their DVR live, playback recorded video and control PTZ cameras. It also allows users to have multiple DVR's saved making remote access a simple task.


Remote Access Client Software (CMS)
To access the iDVR-E Surveillance DVR remotely using the CMS program, please follow the instructions below.

1. First you must ensure that the correct ports are forwarded in your router. If you have not yet done, please visit our Network Setup / Port Forwarding article.
2. Once everything is configured, install the CMS Installer on the included disk. (You can also download it here - CMS)
3. Then launch the program by double-clicking on the desktop icon. The default password is a single zero "0". (Shown Below)

4. Now enter the DVR's information in the set list manager and press "Apply" followed by "OK". (Shown Below)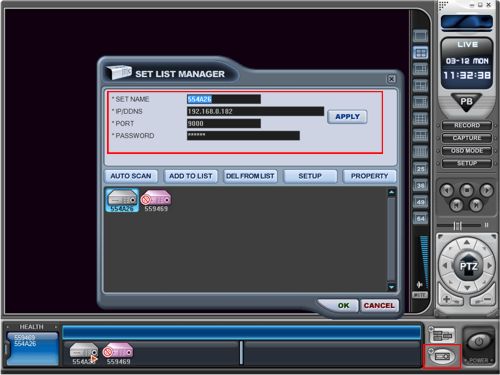 5. Then double-click on the DVR you wish to view at the bottom of the screen. Your DVR should now be displayed.