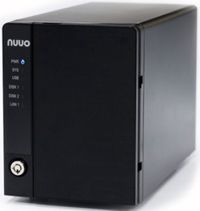 Nuuo Mini NVR Recording Setup

The instructions featured in this article explain how to setup the various recording modes of the Nuuo Mini NVR. Users can easily configure the Nuuo Mini NVR to record continuously around the clock or to record based on a set schedule. The examples in this article were done using a NV-2040 NUUO Mini Network Video Recorder







Continuous Recording
1. Login to your Nuuo Mini NVR by enter the IP address into an Internet Explorer web browser on a PC connected to the same network as the NVR. (The Nuuo Mini NVR IP address can be found in the Nuuo installation wizard)
2. Click on the Recording & Event tab on the left column and select Recording Settings. (Shown Below)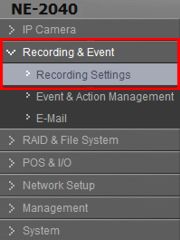 3. Then under the Recording Mode tab, select Always Recording. Then select the cameras you wish to record. Once selected, click Save. (Shown Below)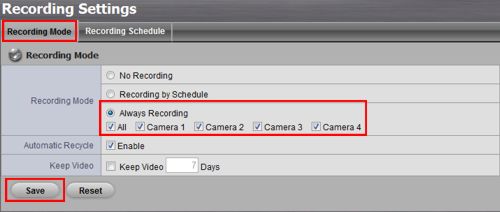 Schedule Recording
1. Login to your Nuuo Mini NVR by enter the IP address into an Internet Explorer web browser on a PC connected to the same network as the NVR. (The Nuuo Mini NVR IP address can be found in the Nuuo installation wizard)
2. Click on the Recording & Event tab on the left column and select Recording Settings. (Shown Below)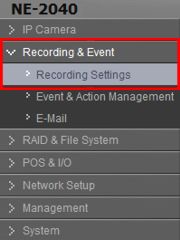 3. Then go into the Recording Schedule tab. First select whether you want to configure a Day schedule which will record the same everyday or a Weekly schedule for different schedule each day of the week. Then select the camera you wish to setup. If you chose weekly, select the a day and double-click the highlighted time bar at the bottom or click Configure. (Shown Below)
4. Select the Start Time and End Time. Then select the Pre and Post Record times (How long the camera records for before and after an event takes place). Then Enable Audio if you wish. Select either Always Record or Record on Event under the Mode section. Once configured click OK. (Shown Below) Once you do this for all your cameras and/or days click Save as seen above.
5. Then under the Recording Mode tab, select Recording by Schedule and click Save. (Shown Below)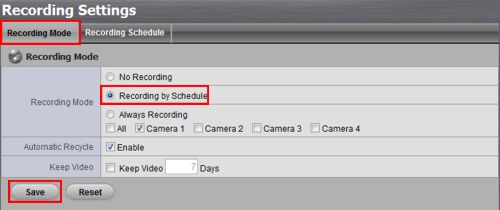 Motion Recording
Motion recording only records when motion is triggered by an object in the cameras view. I recommend following the Schedule Recording instructions prior to setting up motion. You will have to make sure motion is enabled on your IP camera prior to setting it up on the NVR (This can typically be found in your IP camera user manual).

1. Login to your Nuuo Mini NVR by entering the IP address into an Internet Explorer web browser on a PC connected to the same network as the NVR. (The Nuuo Mini NVR IP address can be found in the Nuuo installation wizard)
2. Then go to Recording & Event followed by Event & Action Management. (Shown Below)
3. Now select a camera and check Motion from Camera. Click Configure and the second image below will appear. Check Enable Event and enter when you would like the motion to be active and click OK. Then click Add followed by CMS. Do this for as many cameras as you need and click Save.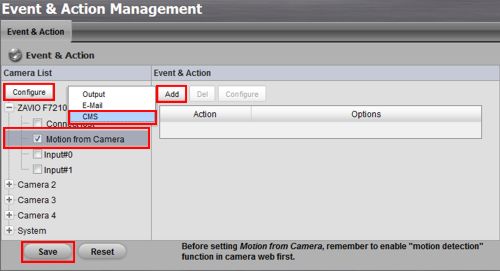 4. Click on the Recording & Event tab on the left column and select Recording Settings. (Shown Below)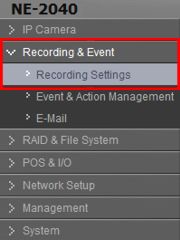 5. Then go into the Recording Schedule tab. Follow the instructions above to configure a schedule. Select a camera and click Configure towards the bottom. (Shown Below)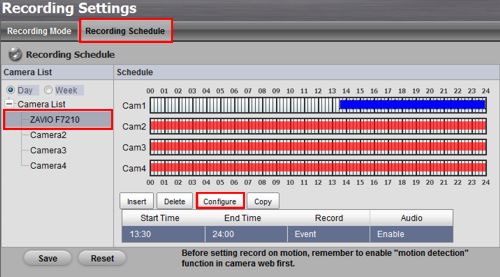 6. Under Mode, click Record on Event. Then under Motion, click Motion on Camera (Whatever camera you want motion on). Click OK once completed. (Shown Below)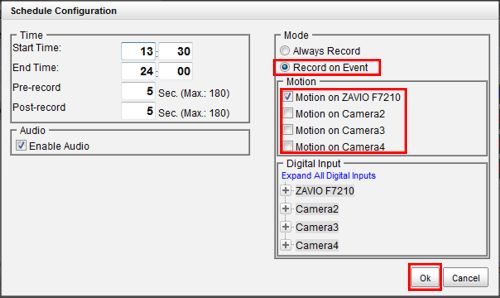 7. Then click Save on the Recording Settings menu.