Nuuo Main Console Remote Access Android
The instructions featured in this article explain how to remotely access the Nuuo Main Console DVR / NVR using an Android mobile device. The NViewer Android application allows users to remotely view their Nuuo Main Console DVR / NVR from virtually anywhere. In this article we will be using the NViewer Lite application which only allows users to view their DVR.

1. The first step is to ensure that the correct ports are forwarded in the router connected to the Nuuo Main Console PC. Then make sure that the correct network settings are enable on the Nuuo Main Console interface. If you have not done this yet, please visit our Nuuo Main Console Network Setup article.
2. Please download the NViewer Android application. NViewer Download

3. Once downloaded go ahead and launch the application. Then press the Menu button followed by Add Connection. (Shown Below)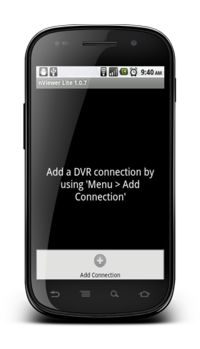 4. Now enter the DVR Name, URL (Remote IP Address), HTTP Port 80 (Default), RTSP Port 554 (Default), ID (Username) and Password of your Nuuo Main Console DVR. Then press Save once the correct settings are entered. (Shown Below)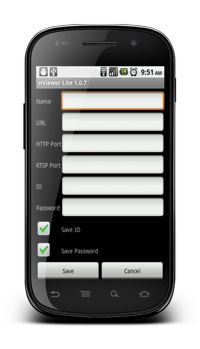 5. Now press and hold the name of your Nuuo Main Console DVR until the pop up menu appears. Press Connect on the pop up menu to view your Nuuo Main Console DVR. (Shown Below)