H.264 Stand Alone DVRs - iDVR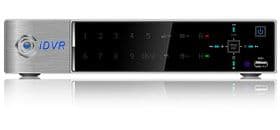 CCTV Camera Pros is proud to offer our iDVR which is a feature rich H.264 / MPEG-4 AVC stand alone DVR that comes in 4, 8, and 16 camera models. Our DVRs come standard with features such as motion detection, time and date stamping, email alerts, and remote DVR viewing. The iDVR also features DVR viewer access from computers and mobile cell phones. Remote iPhone camera view, remote blackberry view, remote windows mobile viewing as well as DVR remote web browser access from a Windows PC or laptop. NEW! The iDVR series digital video recorders are now compatible with a Google Android mobile phones. Watch your cameras remotely from your Android cell phone. We provide Free Tech Support, and the iDVR includes a 2 year manufacturer warranty from CCTV Camera Pros.
CALL TOLL FREE FOR LIVE HELP 888-849-2288.
NEW! The iDVR PRO is now available and comes in an 8 and 16 channel model. The iDVR PRO CCTV DVRs also use H.264 video compression, support real time recording (30 frames per camera), and are compatible with MAC for remote Internet surveillance viewing.
The following youTube video demonstrates the remote iPhone viewing capability of the iDVR.


Click here to watch full sized video: iPhone CCTV DVR Viewer Video



The following youTube video demonstrates accessing video surveillance on the iDVR from an Android mobile phone.


Click here to watch full sized video: Android Mobile Phone Remote Video Surveillance



The iDVR stand alone DVR series allows you to view your security cameras live from from your iPhone through the Safari web browser. Logging into your DVR from your iPhone is simple: 1) Launch the Safari web browser from your iPhone. 2) Enter the IP address and port # of your DVR. 3) Select the camera that you want to view.
The iDVR series from CCTV Camera Pros supports remote viewing of security cameras from Blackberry mobile phones. The images below show the Blackberry DVR viewer in action.
DVR Central Monitoring Station
The central monitoring station included with CCTV Camera Pros iDVR series enables users to view multiple DVR locations from one central computer view. The CMS allows users to view cameras live as well as play back recorded video.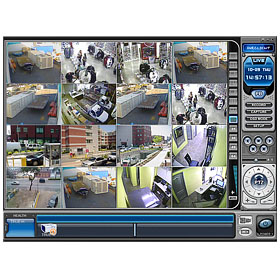 MAC Surveillance

The iDVR PRO is compatible with MAC laptops and desktops. View your surveillance cameras remotely over the Internet from a MAC.

The iDVR series stand alone surveillance DVR supports remote viewing from Internet Explorer, Firefox, Chrome, and Safari Web Browsers.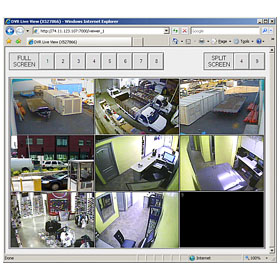 Remote Web Browser View & Playback
Click here for video page including transcript: DVR Web Browser Remote Live View & Playback
---