Geovision Motion Detection Recording Setup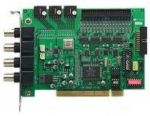 Geovision surveillance systems can be setup to record video on when motion is detected on a certain camera and even a certain area within a security camera view.
These setup instructions cover how to enable motion detection recording on your Geovision system.
Motion Detection Setup
Start your Geovision system if it is not already running.

From the System Menu on your Geovision DVR, click on the Configure button (#3 below).





From the configure menu, select General Settings then System Configure. The System Configure screen will open.

Click on the Camera Record Setting.

Follow the steps below the screenshot for each camera that you want to be setup for motion detected recording.



1) In the upper left hand corner of the camera record setup screen, select the camera from the Camera Name dropdown box that you want setup for motion detection.

2) Set the motion sensitivity.

3) Click on the Rec Video check box to enable motion detection recording for this camera.

4) Change Round-the-clock recording to Motion Detect if you want the camera to always record on motion and skip step 5. If you want the camera to record sometimes on motion and sometime around the clock (day / night mode), select Day-Night and go to step 5 below.

5) For day night mode, click on the right arrow next to the Day-Night dropdown. The below screen will open. Follow the instructions below



1) Click on the Span1 check box to activate the first time slot that you will configure.

2) Select the start and end time for the first setting.

3) Select Round the clock or Motion Detect recoding from the dropdown box. Repeat steps 1-3 for each time that you wish to configure.

4) If you want weekends to jhave different recording rules than during the week, check the Weekend Apply check box.

5) Select if you want weekend configured to be set to motion detection recording or around the clock recording.


Press OK. You will return to the Camera Record Setting Tab on the System Configure screen.

Repeat all of these steps for each camera that should be set to motion detect recording.

When you are finished configuring all of your cameras, press the OK button on the System Configure screen.

Start your system monitoring again by pressing the Record button (#1 below) and select start monitoring all.


Your Geovision surveillance system is not setup to record on motion.