The Life and Work of Edward S. Curtis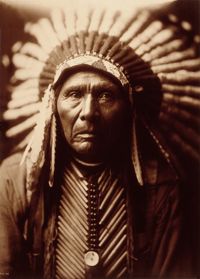 Famous photographer Edward S. Curtis was a pioneer in the world of Native American and Western photography. He truly captured the spirit of the Native American through his research and photographs. Born in Wisconsin in 1868, he grew up the son of a minister who was also a veteran of the Civil War. His family moved to Minnesota in 1874, and he dropped out of school by the sixth grade. His love for photography was apparent in his early years, when he built his own camera. Curtis began work as an apprentice photo taker at the age of seventeen. He started up his own photography studio with a partner, Thomas Guptill. He married Clara Phillips in 1892 and the couple had four children together. The family moved to Seattle, Washington and in 1895, he took his first portrait photograph of Princess Angeline , which was his first official portrait of a Native American. Clara and Edward Curtis later divorced in 1910 when they were living in Seattle.
In 1906, famous financier J.P. Morgan offered Edward Curtis a large sum of $75,000 to comprise a series of portraits focusing on the North American Indian. The series would consist of twenty volumes and contain approximately 1,500 different portraits. Aside from the prints for the collection, he also took about 40,000 individual shots. Curtis wanted to do more than just take photos; he also wanted to use the opportunity as a way to document Native American life. He knew that they were slowly becoming endangered, and wanted to ensure that he could find a way to preserve their memories. Over 10,000 wax cylinders of vocals, chants, interviews, and sounds were also recorded by Curtis during this time. Over 40,000 photos were taken in total, covering about 80 different Native American tribes. His thorough and intimate work covered almost every aspect of Native American life: family, food, religion, tradition, farming, clothing, and hunting practices, music, and lore. The goal was to not only document their lives through photos, but to get a first-hand account of who they were as a people. Curtis' work resulted in a never before seen account of how the Native American tribes behaved, lived, and worked. He felt as if this information should be captured thoroughly so as not to become lost forever. Curtis had a great reverence and respect for the Native American people, and it showed in his work.
After Curtis went through his divorce, Clara took control of his studio and his photographs. Edward Curtis destroyed all of his glass negatives before Clara could get them after the settlement. The divorce truly affected Edward Curtis, and many say he became destitute and desperate. He was arrested briefly for failure to pay child support. Sadly, he later sold his collection of photos for a small sum of money in order to provide the money for his past due child support. The collection was sold to J.P. Morgan's son. Curtis and his daughter Beth moved to Los Angeles and opened a brand new studio together. Here, he worked as assistant to the famous Cecil B. DeMille, which gave him a new perspective and outlook on photography as a whole. Still, nothing ever quite compared to his work with the North American Indian project. Those photographs left behind a legend and a legacy that would be treasured by Americans for many years to come. Today, many of the prints are archived at the Library of Congress. The Peabody Essex Museum also contains some of his best work, including 110 unique prints. His work was lauded by many critics and fans, notably Theodore Roosevelt, who had a great appreciation for his photographs. The Native Americans called him the shadow catcher because of his ability to capture their images on film. Today, Edward S. Curtis is known as one of the most important photographers and influential historians in American history.
For more information about the life and work of Edward S. Curtis, please refer to the following links:
This article was written by Mike Haldas, co-founder and managing partner of CCTV Camera Pros. If you found it useful, please share it.
---