Construction Site Surveillance System
The following construction site surveillance system images were taken remotely over the Internet. From CCTV Camera Pros Florida office, we helped a customer in New Jersey setup the remote dvr viewer application to view her cameras over the Internet. This customer used our surveillance system to monitor progress of the construction site where they were building their summer home on New Jersey. The customer lives in Southwest Florida and slowed down the recording speed of their surveillance DVR to record at a rate of one frame every minite. They did this to maximize the use of the DVRs hard drive. Alhough they recorded at a very slow rate, live recording is always in real time. We sincerely thank Gretchen in New Jersey for letting us capture these images while logging into their CCTV surveillance system.


This home security camera system was used for this construction site surveillance application.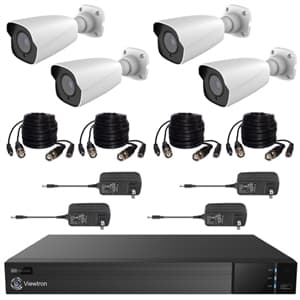 Construction Site DVR Viewer Images
The images show the DVR viewer software that comes with the above 4 camera surveillance system. For these screen shots the viewer application was used. This software allows you to view your security cameras remotely over the Internet using a Windows PC and a high speed Internet connection. This model DVR is our best seller and is available in 4, 8, and 16 channel models. View this DVR series here: Surveillance DVRs.



*Please Note:

The actual images are even clearer directly on the system that what is seen on this web page. Surveillance images that are viewed on location are always much higher quality than taken remotely over the Internet because of bandwidth / connectivity limitations. Also these images have been screen captured and converted/compressed to Internet format which lowers their quality. The actual performance that you will experience with one of CCTV Camera Pros systems is even better than what you see here. We guarantee it!

Four Camera Construction Site Surveillance System

Construction Surveillance - Single Security Camera View 1
Construction Surveillance - Single Security Camera View 2

Construction Surveillance - Single Security Camera View 3





Thanks again to our great customer in New Jersey for letting us take these screen shots of their DVR viewer access while helping providing support to them

.

If you have any questions about any information on this website, please do not hesitate to contact CCTV Camera Pros.

bookmark this page for future reference