Alfred Eisenstaedt: The Man Behind The Camera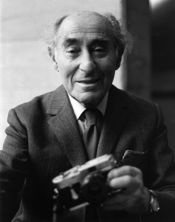 Among the ranks of photojournalists, few names are more famous than that of Alfred Eisenstaedt. The well-known photographer known best for his work on LIFE magazine has had an impact on his field that few can match, and his photo "V-J Day, Times Square, 1945" has become a vital part of America's remembrance of World War II.
EARLY YEARS
On December 6, 1898, Alfred Eisenstaedt was born into a Jewish family in what is now Dirschau, Poland. At age 8, he moved with his parents, Joseph and Regina, and his two brothers to Berlin, where the family would reside until the rise of the Third Reich. Joseph Eisenstaedt was a merchant, and had his uncle not intervened, Alfred probably would have followed his father into the family business. But when he was 14, this uncle gave Alfred an Eastman Kodak No. 3 folding camera, and a lifelong love of photography was born.
Like many of the other boys his age, Alfred was drafted into the German army when he was 17, serving on the Flanders front and suffering a shrapnel injury to both legs on April 9, 1918. Since he was the only survivor of his artillery battery, Alfred was sent home to recuperate, and he would spend a year recovering before he could walk without any aid. This respite gave him the chance to indulge his interest in photography, and he often attended museums with the help of crutches and a cane to study techniques of light and composition. In 1922 he began what would be a temporary career as a belt-and-button salesman, saving what money he could in order to by photographic equipment. Alfred would take pictures with this equipment and develop them in his bathroom.
While on vacation with his parents in Czechoslovakia in 1927, Alfred photographed a woman as she was playing a game of tennis. The photo was taken from a hillside that was 50 yards away from the woman, and it captured the shadow of the woman that the sun had cast on the court. ??Alfred would later describe the picture and the way it would affect his photography. Writing in his book Eisenstaedt on Eisenstaedt, he said, "I took one picture of the scene with a Zeiss Ideal camera, 9 x12 with glass plates. I was rather satisfied when I showed it to a friend of mine. 'Why don't you enlarge it?' he asked. And he showed me a contraption of a wooden box with a frosted light bulb inside attached to a 9x12 camera, same as mine.... When I saw that one could enlarge and eliminate unnecessary details, the photo bug bit me and I saw enormous possibilities." These possibilities included prospect of earning his living through photography, and this future career began to take shape when he sold the picture of the woman tennis player to Der Welt Spiegel for three marks (twelve dollars).
It was not until he was 31 that Alfred was able to quit the belt-and-button business in order to take up photography full time. Little did he know that his work would help define his chosen profession. But since there were not any established rules that he could follow, Alfred had free reign to leave his mark. He did look to the photography of Martin Munkasci for inspiration, and he also learned much from Dr. Erich Salomon, whom Alfred called "the real father of candid photography."
At this point, Alfred found work as a freelancer with Pacific and Atlantic Photos, an outfit that later became the Associated Press in 1931. His photo assignments were varied, including portraits of famous political figures and artists as well as different social events. He often fulfilled these assignments using the innovative Leica 3mm camera. In 1933, Alfred went to Italy to capture the first, eventful meeting of Hitler and Mussolini on film, which he shot only a few feet away from the two dictators. Two years after Hitler came to power, Eisenstaedt emigrated from Germany to America.
"PROJECT X"
Eisenstaedt settled in New York City, where Time magazine founder Henry Luce hired him alongside photographers Thomas McAvoy, Margaret Bourke-White, and Peter Stackpolea for a start-up project he called "Project X." This secret project was LIFE magazine, which hit the stands for the first time on November 23, 1936. Alfred later remarked how much fun it was to work on this project, the first issue of which featured five pages of his photographs. At LIFE, Alfred was given the name "Eisie" by his peers, and the second issue of the magazine featured his picture of West Point on the cover. His other assignments during this early period included images of America's recovery from the Great Depression that he shot on his travels across the country. These images included pictures of people on Los Angeles' skid row, images of signs that advertised five-cent beers, and photos of abandoned cars and shacks in Oregon. Eisie also was assigned a lot of celebrity photo coverage because as a non-U.S. citizen, he could not be sent overseas to cover the war efforts.
This period of time also included his marriage in 1949 to Kathy Kaye, a South African woman he first met in New York. They would enjoy 23 years of marriage until her death in 1972.
THE KISS
The most famous picture that Alfred Eisenstaedt ever took is the picture of a sailor kissing a nurse entitled "V-J Day, Times Square, 1945." This image has been reproduced countless times and resulted from Eisie's instinct for what would make a good photograph. He recounted that he had followed the sailor who was "running along the street grabbing any and every girl in sight. Whether she was a grandmother, stout, thin, old, didn't make any difference. None of the pictures that were possible pleased me. Then, suddenly in a flash, I saw something white being grabbed. I turned around and clicked the moment the sailor kissed the nurse."
For many years, the identities of the sailor and the nurse in the famous picture remained unknown. But in 1980, a woman named Edith Shain stepped forward and said she was the nurse in the photo. In interviews she has claimed that many sailors were out kissing everyone that day because they were happy to be home and would not be going back to war. It took a bit longer for the sailor to be identified. Glenn McDuffie said in 2007 that he was the sailor in the picture. According to McDuffie, he was exiting the subway in New York when a lady expressed how happy she was for him on account of the end of the war. He ran out into the street cheering and hollering, and then grabbed the nurse and kissed her. It is impossible to prove or disprove absolutely the claims of McDuffie and Shain, and Time has said that the reason why the photo has remained so iconic is because it represents everyman.
In any case, Eisie did not regard this picture, which he took using "1/125 second exposure, aperture between 5.6 and 8 on Kodak Super Double X film," as his favorite. ??Instead, he regarded a picture of a woman in a box seat at La Scala Opera as his greatest photo. Ironically, the editors at Die Dame who assigned Eisie to shoot the opera never printed that picture.
AFTER THE WAR
Eisie officially became a U.S. citizen in 1942, and later he traveled overseas to capture the effects of the war on film. This included tours with Emperor Hirohito on tours of Japan to see what the atomic bomb had done to that country. From this trip he recalled an experience in Hiroshima that stirred his soul. "A mother and child were looking at some green vegetables they had raised from seeds and planted in the ruins. When I asked the woman if I could take her picture, she bowed deeply and posed for me. Her expression was one of bewilderment, anguish and resignation ... all I could do, after I had taken her picture, was to bow very deeply before her."
During the 1950s, Eisie photographed American troops in England, poor people in Italy, and he also took a portrait of Sir Winston Churchill. ??LIFE's 1952 Fourth of July Issue featured Eisie's photos accompanying some of the most famous writings from American authors. Images of the Hudson Valley accompanied Irving's Rip Van Winkle, and photos of the Mississippi adorned sections of The Adventures of Huckleberry Finn by Mark Twain.
Throughout the remaining decades of his life, Eisie would often take vacations at Martha's Vineyard. During these visits he would experiment with different lenses, filters, and prisms, always with natural light. His work was also used in fundraisers for the Vineyard Environmental Research Institute. At Martha's Vineyard, Eisie took his last formal photographs, the subject being the new president, Bill Clinton, and his wife and daughter in August in 1993. Two years later he died on August 24, 1995.
Alfred Eisenstaedt's work set the standard for all photojournalists who would follow him. In all, his work was featured on almost 100 covers of LIFE magazine, and he took over 10,000 different prints. He documented the lighter side of life with no less earnest an approach. Since 1999, the Columbia University Graduate School of Journalism has given the Alfred Eisenstaedt Award for Magazine Photography in his honor.
For further information on the life and career of Alfred Eisenstaedt, please consult:
• A Kiss for the Ages — A short article on the nurse captured in Eisenstaedt's photo "V-J Day, Times Square, 1945."
• Alfred Eisenstaedt at Gallery M — A short biography of Eisenstaedt and some of his famous photos.
• Eisenstaedt Obituary — The obituary that was published in the New York Times upon Alfred Eisenstaedt's death.
• Everyman in Times Square — Columbia College offers this page on Eisenstaedt's famous photo "V-J Day, Times Square, 1945."
• History of Photography: Eisenstaedt — Biography of Alfred Eisenstaedt that includes samples of some of his work.
• The Kiss of Life — This article from a U.K. newspaper gives more information on the event captured in Eisenstaedt's photo of V-J Day.
• Monroe Gallery: Alfred Eisenstaedt — A couple dozen photographs from Alfred Eisenstaedt can be found on this page.
• The Mystery Sailor — ABC News hosts this page on the man who claims to be the sailor in Eisenstaedt's photo "V-J Day, Times Square, 1945."
• Photojournalist of the Century — This is a comprehensive, multimedia page on Alfred Eisenstaedt from The Digital Journalist online publication.
This article was written by Mike Haldas, co-founder and managing partner of CCTV Camera Pros. If you found it useful, please share it.